International Car Forest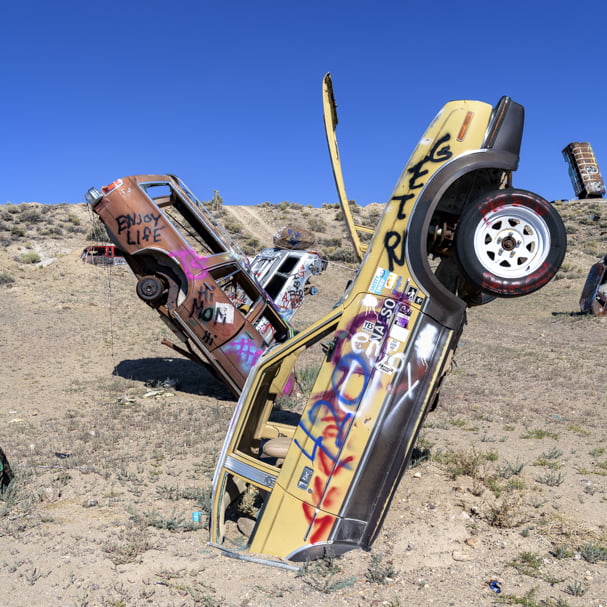 In the Nevada desert, there's a place where the streets have no name and the cars have no passengers. They're also covered in graffiti art and are sticking face down into the dirt. It's the International Car Forest of the Last Church in Goldfield, NV, and it's worth a stop if you're in the neighborhood.
The International Car Forest features some impressive and detailed artwork, rather than just random graffiti, and that's a major part of its charm. Given the desert setting and remote location, the International Car Forest has a post-apocalyptic vibe that's highly intentional but also awe-inspiring and authentic.
Obviously, rusty vehicles just don't end up nose-down in the desert or stacked atop each other without some heavy machinery. The art installation sits on about 80 acres of land off Route 95 in Goldfield, and thanks to it's uber-remote location, it's usually empty.
The landmark was established by Mark Rippie and Chad Sorg in 2002. There's no charge for admission to the International Car Forest, but the road to get there is potholed and rough. It may be impassible during or after a rare desert storm.
Goldfield police are fanatical about enforcing the speed limit on Route 95 where it slows down to 25 MPH. You've been warned.
Of course, if they arrest you and impound your car, who knows? Maybe it will end up as an exhibit in the International Car Forest.
(We're kidding. We think.)
Maps & Directions:
Get Driving Directions:
International Car Forest, 1111 East Crystal Avenue
Goldfield, Nevada 89013
This time, it's OK to leave a trace (Review)
There are no reviews yet. Be the first one to write one.
Submit a review of International Car Forest