---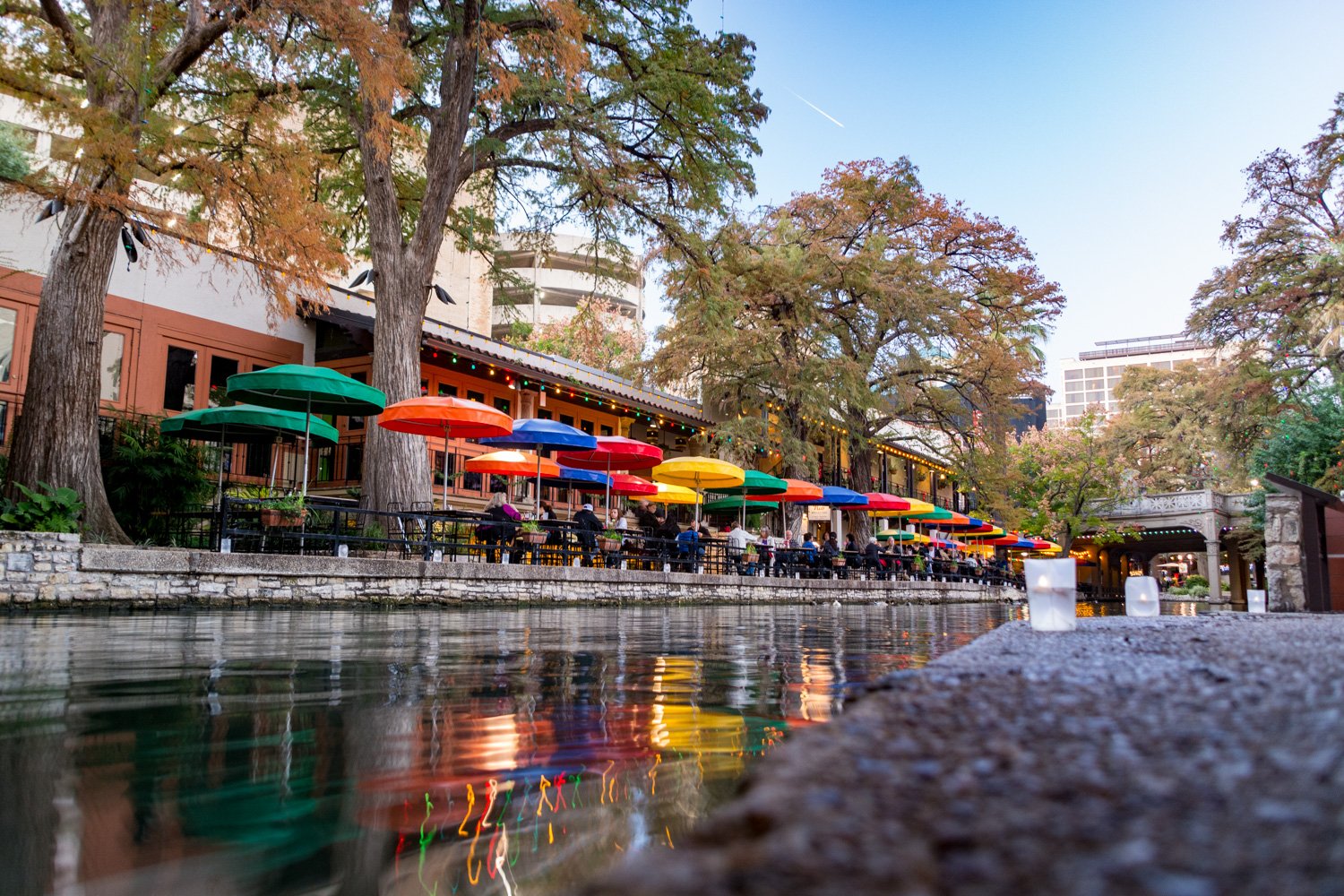 If you're visiting San Antonio, you must explore the beautiful River Walk along the banks of the San Antonio River. The River Walk is one of the main highlights of the city and is visited by millions of people every year.
One of the most popular ways to experience the River Walk is by boat tours. You can enjoy a boat ride by taxi services, boat cruises that narrate history about the River Walk, private luxury boat tours, along with boat services that offer full meals as you float along the river. I highly recommend taking a boat cruise during the holiday season when thousands are lights and decorations are put up along the River Walk. It's truly a magical experience.
The San Antonio River Walk is 15 miles long filled with restaurants, shops, history, entertainment, and beautiful greenery. There is something for everyone to enjoy and love about the San Antonio River Walk.
---
A trip to San Antonio would never be complete without visiting one of the most historical landmarks in the state of Texas! It was here at the Alamo that one of the most important battles took place during the Texas War of Independence. The Battle of the Alamo became a symbol of heroic resistance and perseverance for independence for Texans. Although Mexican troops nearly destroyed the entire fortress during the war, a small part survived the battle and is now open to the public as a museum.
Come visit the Alamo in the heart of San Antonio and learn about an important part of Texas history. The Alamo museum consists of multiple buildings, a restored church, hundreds of documents, artifacts, weapons, and more! Visiting the museum is completely free and is open year-round to the public. You will not be disappointed exploring this beautiful landmark building and capturing a photo right in front of the Alamo.
---
Market Square in San Antonio is an outdoor area where the culture of San Antonio comes alive. The Market Square is located on Commerce Street and is only about a few miles from the River Walk. Here you can experience authentic Mexican cuisine, cultural merchandise, hand-crafted artifacts, live entertainment, and more!
Nearly every weekend the Market Square is filled with performers and vendors and is known for putting on family-oriented events. Explore and shop in one of the hundreds of locally owned businesses that provide a diverse collection of artifacts and apparel. Immerse yourself in Mexican culture here at the historic Market Square and see why this market has been a favorite spot for tourists and locals for many generations.
---
The San Antonio Botanical Garden welcomes guests to amazing scenery, vibrant floral displays, beautiful gardens, and glass pyramids that are filled with exotic plants from all over the world. The Botanical Garden in San Antonio is recognized nationally as a museum that provides outstanding botanical diversity, a tranquil atmosphere, and a research conservation facility.
The San Antonio Botanical Garden is the perfect place to visit if you're wanting to escape the city for an afternoon and learn about plant life. It's also the perfect place to visit with the family due to the variety of events and exhibitions that take place all year long.
The Botanical Garden even offers classes that are recommended for all ages that teach about growing your own vegetables and fruits in a garden, vegetation, plant life, and conservation. Private rentals are also available at the garden for meetings, birthdays, and weddings.
---
Do you want to see exotic animals and feel like you're in an African safari? If yes, then your adventure awaits at the Natural Bridge Wildlife Ranch located in San Antonio, Texas. Natural Bridge Wildlife Ranch is one of Texas' most recognized family entertainment attractions that is a must-see for adventurers and animal lovers.
You will have a blast meandering through 450 acres of rolling hills and seeing more than 40 different exotic and endangered animal species from across the globe without even leaving your vehicle!
Come interact and see animals in a free-roaming environment at the Natural Bridge Wildlife Ranch in San Antonio.
---
There is plenty to discover at the Natural Bridge Caverns in San Antonio whether you enjoy exploring caverns, mining for fossils, ziplining, or wanting to conquer a ropes course.
Cavern tours usually take about 45min – 1 hour where you'll descend 34 stories deep into the Earth. While underground, you'll be able to explore the caverns and see amazing natural features and rock formations that were created thousands of years ago.
Above ground, you can discover rocks, minerals, and gems at the Natural Bridge Mining Company and fly across the scenic Texas Hill Country on a zip line.
---
Last but not least is the iconic landmark building in the heart of downtown San Antonio. The Tower of the Americas is the tallest building in San Antonio, soaring at about 750 feet.
Inside the tower, there is a thrilling 4D theatre ride and souvenir shop at the base and a revolving restaurant and observation deck at the top. The Tower of the Americas allows you to dine at the top of the tower with outstanding views and wonderful cuisine. Above the revolving restaurant is an observation deck that provides you with unbeatable panoramic views of downtown San Antonio.
The Tower of the Americas certainly takes entertainment and fine dining to new heights and is a must-see while visiting San Antonio, Texas.
Three More Things to Do in San Antonio
Take a Ghost Tour
A city as historic as San Antonio is bound to have some supernatural activity, right? Whether you believe in ghosts or not, taking a ghost tour in San Antonio is guaranteed to be a fun and thrilling experience.
There are several ghost tours available throughout San Antonio and are very popular during Halloween time. However, you most certainly don't have to wait around for October to be spooked as there are multiple ghost tours offered all year long.
I recommend taking a ghost tour around the Alamo late in the evening or at the historic Menger Hotel right next door to the Alamo. There are definitely some creepy stories to be told at these locations that will give you goosebumps!
Theme Park Thrills at Six Flags
Six Flags Fiesta Texas is San Antonio's largest, most thrilling theme park. Six Flags has dozens of exciting rides, rollercoasters, shows, and activities that are perfect for a day of fun with family and friends.
Six Flags is a very popular theme park for people who love rollercoasters. Six Flags has some of the fastest, tallest, and wildest rides in the country and has even a few record-breakers.
If you're not a fan of rollercoasters, no problem. There are still several milder and family-oriented rides that are just as fun at Six Flags. There also is an awesome waterpark! You'll be guaranteed a day full of fun and excitement at Six Flags in San Antonio, Texas.
Hit Your First Rodeo
You'll certainly want to schedule your trip in February if you want to see the San Antonio Stock Show and Rodeo. Texans know just how fun and entertaining rodeos can be. The rodeo in San Antonio takes place every February at the AT&T Center/Freeman Coliseum.
The rodeo offers world-class entertainment with famous musicians, livestock shows, carnival rides, amazing food, petting zoos, and educational exhibits. There is truly something for everyone to enjoy and experience at the San Antonio Rodeo.
Be sure to buy your tickets, grab a cowboy hat, and put on your boots as you experience one of the greatest and well-known events in Texas. Yee-haw!!