Clinton Presidential Center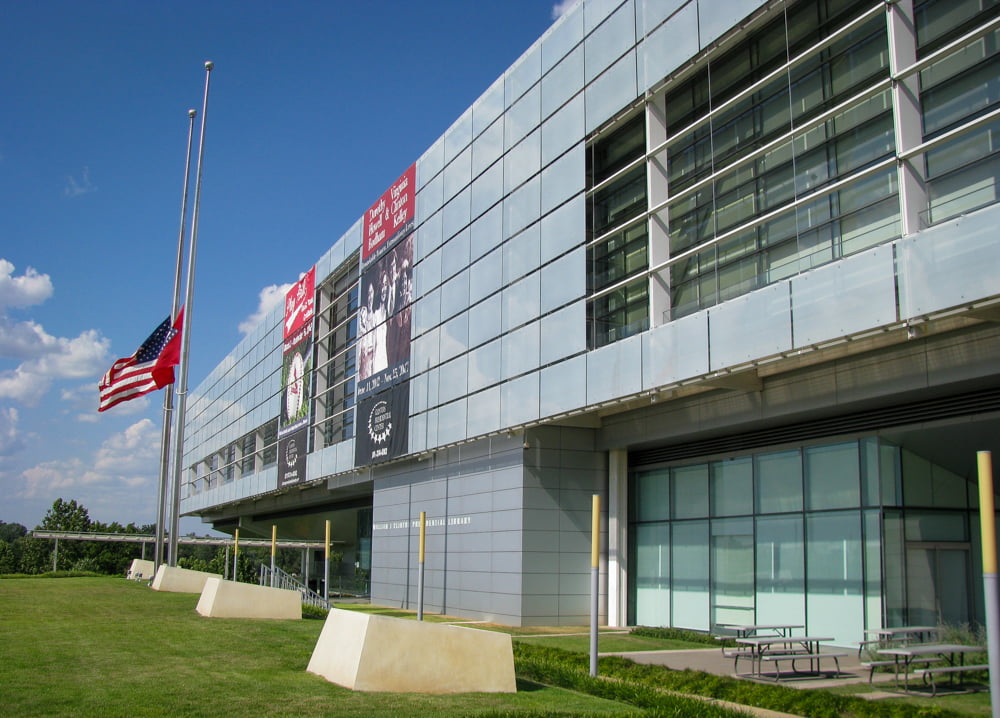 The William J. Clinton Presidential Library and Museum is the presidential library of Bill Clinton, the 42nd president of the United States (1993–2001). It is located in Little Rock, Arkansas and includes the Clinton Presidential Library, the offices of the Clinton Foundation, and the University of Arkansas Clinton School of Public Service. It is the thirteenth presidential library to have been completed in the United States, the eleventh to be operated by the National Archives and Records Administration, and the third to comply with the Presidential Records Act of 1978. It is situated on 17 acres (69,000 m2) of land located next to the Arkansas River and Interstate 30 and was designed by architectural firm Polshek Partnership, LLP with exhibition design by Ralph Appelbaum Associates. Polk Stanley Wilcox Architects also contributed. The main building cantilevers over the Arkansas River, echoing Clinton's campaign promise of "building a bridge to the 21st century". With a 68,698-square-foot (6,382. 3 m2) floor plan, the library itself is the largest presidential library in terms of physical area, although the Ronald Reagan Presidential Library has the greatest space overall, due to its addition of the 90,000 square feet (8,400 m2) Air Force One Pavilion in 2005. The archives are the largest as well, containing 2 million photographs, 80 million pages of documents, 21 million e-mail messages, and 79,000 artifacts from the Clinton presidency. The Clinton Library is also the most expensive, with all funding coming from 112,000 private donations. The museum showcases artifacts from Clinton's two terms as president and includes full-scale replicas of the Clinton-era Oval Office and Cabinet Room.
Maps & Directions:
Get Driving Directions:
Clinton Presidential Center, 1200 President Clinton Avenue
Little Rock, Arkansas 72201
This time, it's OK to leave a trace (Review)
There are no reviews yet. Be the first one to write one.
Submit a review of Clinton Presidential Center
This article uses material from the Wikipedia article "Clinton Presidential Center", which is released under the Creative Commons Attribution-Share-Alike License 3.0.