Calf Creek Falls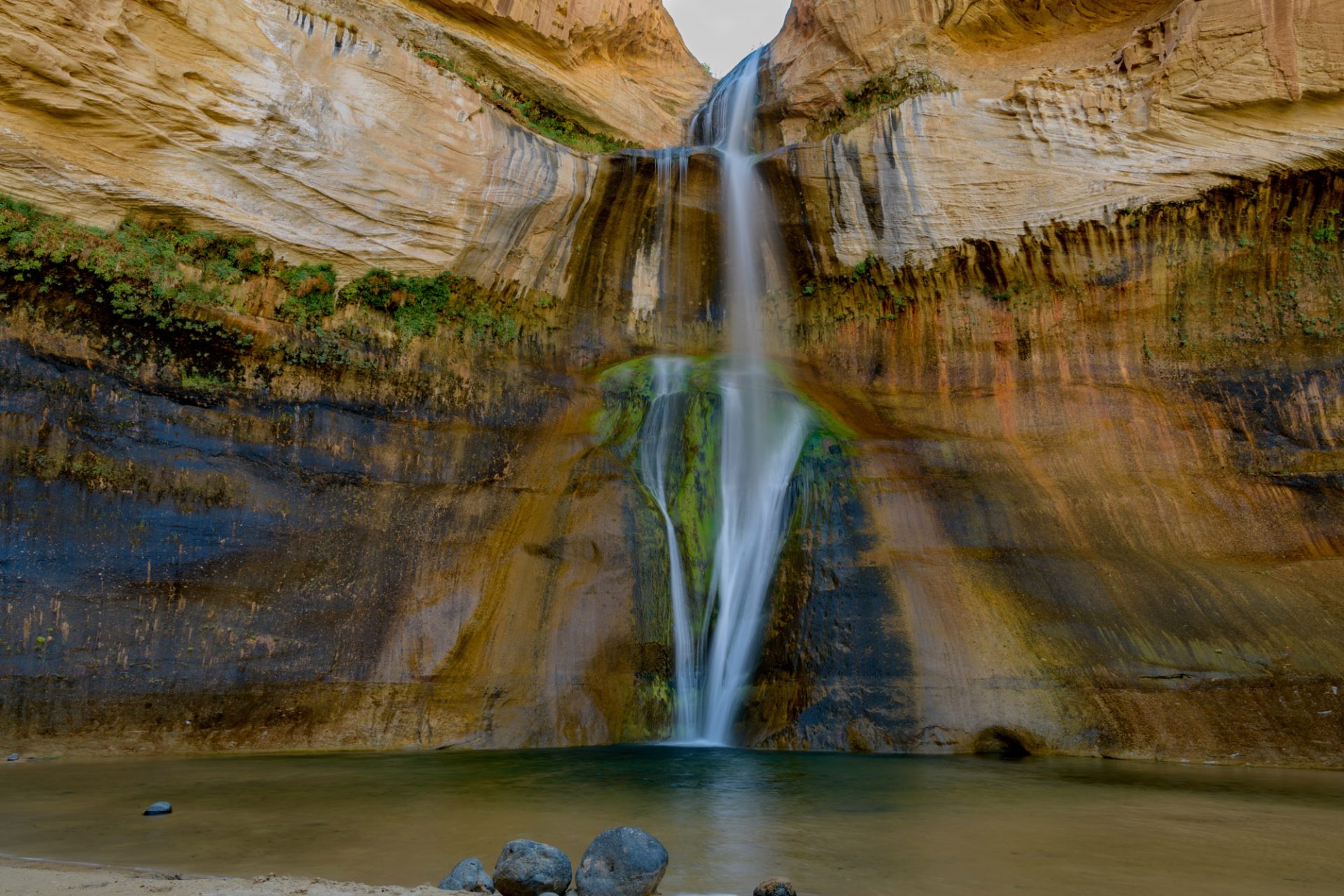 Calf Creek Falls refers to a pair of perennial waterfalls on the Calf Creek in the Grand Staircase-Escalante National Monument in central Garfield County, Utah, United States, that total 214 feet (65 m).
Maps & Directions:
Get Driving Directions:
Calf Creek Falls, Boulder
Boulder, Utah 84716
This time, it's OK to leave a trace (Review)
Escape and have fun - without wearing yourself out
I am not a big hiker and did Camelback Mountain in PHX w friend in 2019 and thought i was gonna turn back.
I bought hiking shoes ahead of this trip and had a few protein bars and my camelback. THIS is nothing like Camelback Mtn. That was just a point of reference.
There are clearly marked signs detailing the hike and a well with sparkling water to fill ypur camelback before you head out. I also noted a few rangers – making sure all was well.
The hike is 7.5 miles round trip and are only a few real areas of changing elevation. This was my first hike where a significant amount of terrain was sand. I learned quickly to walk the "edges" of these areas to save my strength. It wasn't congested or busy and i 'Nascar drafted' with a couple i didnt know – alternating taking the lead as we stopped to take pictures as separate parties.
I was here in October 2020 and it was 25° midday when i did this. It. Was. BEAUTIFUL. The rock formations open up into vast gorgeous views as you progress and the yellow leaves of fall – with a semi-babbling brook over your right shoulder – eventually lead you thru trees and to the waterfall in the clearing. I couldn't take enough waterfall pics 😊 and the view was a just reward for good hike.
I didn't see any animal life along the hike , but noted a small shallow cave about 1/4 of the way – and didn't venture near it as i was hiking alone.
I stayed at the base of the waterfall as long as I could before realizing it would grow colder still, after the sun slipped behind the waterfall and rock formations. I traced my steps and headed back to the car.
Submitted by on
Submit a review of Calf Creek Falls
This article uses material from the Wikipedia article "Calf Creek Falls", which is released under the Creative Commons Attribution-Share-Alike License 3.0.