Looping the Grand Tetons: Cruising through Montana, Wyoming, Idaho and Yellowstone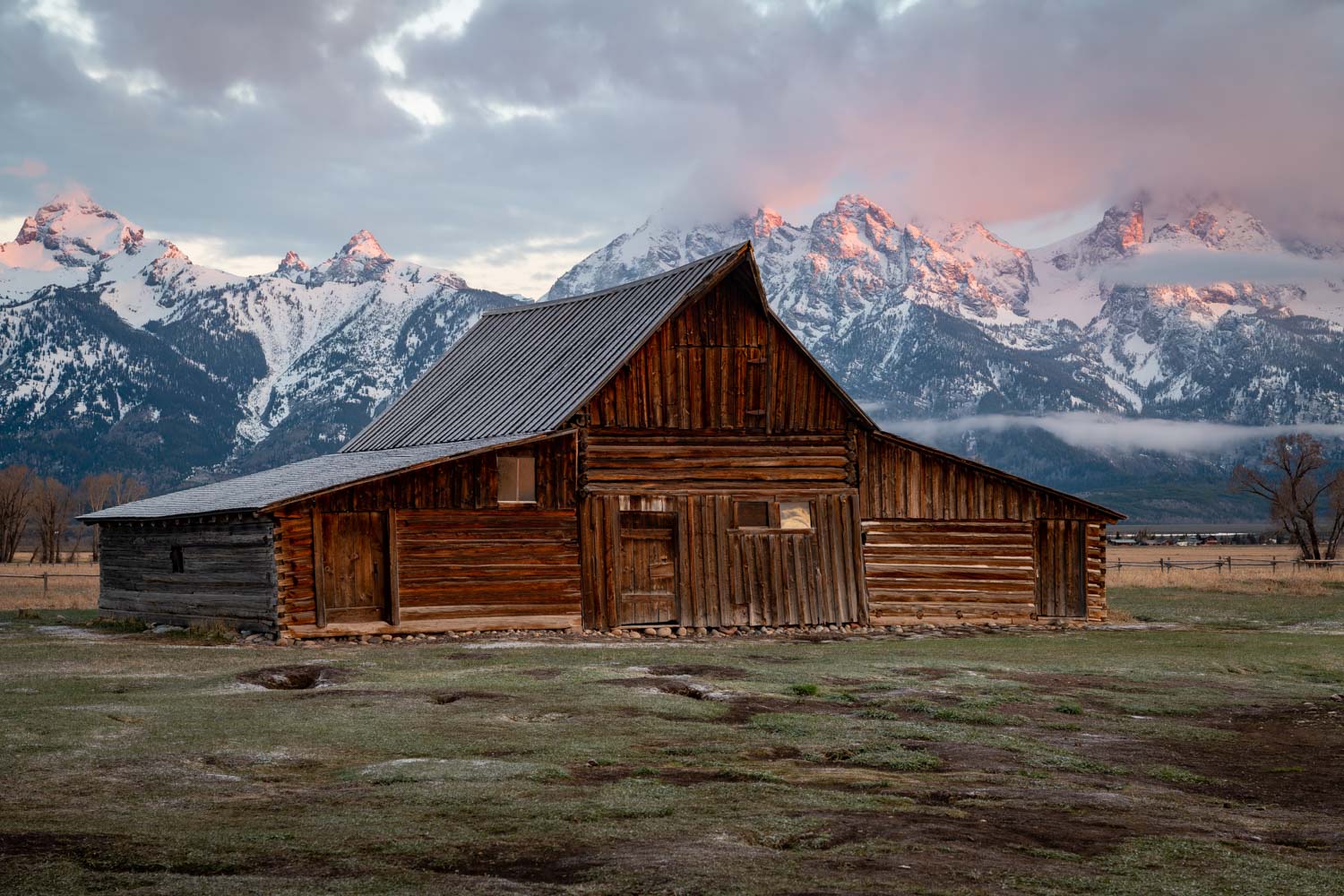 After I finally made the trip to Jackson, Wyoming, and spent a few days exploring, I wondered: What took me so long, and why aren't more people talking about Grand Teton National Park?
I'd never visited Grand Teton National Park in any of my multiple trips to Wyoming, despite the park's neighboring proximity to Yellowstone. Determined to address this gap in my National Parks visitation, I made my most recent trip with Jackson Hole, Jenny Lake, Mormon Row and several other points of interest top of mind in mid-May. While a gate closure at the southern end of Yellowstone complicated my arrival, this snafu introduced me to more scenery along the Idaho/Wyoming border that I would have otherwise missed.
My trip started with a flight into Bozeman, Montana before venturing south into Yellowstone National Park via the park's North Gate and iconic Roosevelt Arch. During the summer, you can follow Route 191 south from Yellowstone directly into the Grand Tetons, however, I was a week too early before the south gate was set to open, forcing me to re-route my trip and spend the night in West Yellowstone, Montana, which is a fantastic pit stop if you can't take the direct route through the parks, or you're seeking a few scenic detours.
The quickest drive from West Yellowstone, Montana to Jackson, Wyoming traverses a route that might otherwise be considered backroads, but out here, you don't have many options thanks to unforgiving geography and sparsely populated hubs along the way. Route 20, which begins in West Yellowstone at the park's western gate, buttonhooks down south across the Montana/Idaho border, passing Henrys Lake State Park, Island Park and Harriman State Park along the way to Ashton, Idaho. All three are worth stopping in on, but in the interest of time, I saved them for my return trip to Bozeman.
While you're in the neighborhood, there's a few other stops to add if you want to venture off the path, the best of which might be Mesa Falls. Located off the Mesa Falls Scenic Byway, Mesa Falls is an awesome side-trip with a brief hike to an overlook that provides breathtaking views of the falls on Henrys Fork, a tributary of the Snake River. Henrys Fork is world-famous among anglers for year-round fly fishing.
West of Ashton are the St. Anthony Sand Dunes, a popular destination among the locals where Napoleon Dynamite's grandmother famously broke her coccyx taking a spill on dune buggies. The dunes are a little out of your way if you're heading for Wyoming. We still haven't been there yet, but they're certainly within striking distance if you've got time on your hands.
Otherwise, when you reach Ashton, to continue on to the Tetons you'll pick up Route 32 south, which leads you through farmlands and small towns like Tetonia, where you'll continue on 33 South. From there, you'll cruise through Clawson, Driggs, and finally, Victor, Idaho before heading back into the mountains and back into Wyoming. Driggs and Victor are the biggest towns among them, with each boasting populations just shy of 2,000 residents. They're your best options to stop in for food, gas, bear spray and whatever else you may need for your Tetons adventure.
The Idaho-Wyoming border is fairly scenic, but by comparison to what you'll see as the road turns into Route 22, it's unremarkable. Your patience will pay off; the view of Jackson Hole that awaits you atop the careening mountain road on Teton Pass is stunning. Get out of the car and get out your camera. It's almost impossible to take a bad photo here.
From the viewpoint, the rest of the drive on Teton Pass Highway is winding and downhill, and still very scenic, so be sure to keep your eyes on the road and your foot near the break. As you descend into the valley, cross over the Snake River and arrive in Jackson, you'll find one of the best resort towns in America, sitting at the southern cusp of Grand Teton National Park.
If you haven't already, check out our guide to Jackson, Wyoming for more details on what it's like to spend a few days here. With plenty of art, beer and dining options, you'll enjoy your stay even if you never make it into the park.
Route 191 will take you from downtown Jackson into the heart of Grand Teton National Park, and once you hit the road, be alert for wildlife crossings, especially at dawn or dusk.
At first glance, Grand Teton National Park may seem like a one-trick pony, as nearly all of its highlights are mountain vistas along the Snake River. However, you'll find as you traverse the park and its various pullouts, that each stop seems even more incredible than the last. There are plenty of incredible hikes to explore on foot, but trust me, the windshield tour of Grand Teton National Park is awe-inspiring. So even if you didn't bring your pack and boots, you'll still get a top-notch visual experience. Recency bias? Perhaps. But Grand Teton National Park is among my favorite of the 27 National Parks that I've visited to date.
Catch sunrise at T.A. Moulton Barn in Mormon Row
Whether you've got a smartphone, a polaroid or a DSLR, you'll want to bring your camera to capture the quintessential views at Mormon Row. The Wyoming sky paints its most brilliant backdrop at sunrise or sunset, bathing century-old barns in dawn's first glow or the warm amber of magic hour as the day winds down.
Sure, you've seen the photo of T.A. Moulton Barn a million times. But every sunrise is different, and it's worth getting up early to take in nature working its magic.
Magnificent Teton Views at Oxbow Bend
Early morning is one of the best times to see wildlife in Grand Teton National Park, and among the best locations to have such an encounter would be anywhere near a water source. Oxbow Bend, a turn of the Snake River just east of Jackson Lake, is among the most beautiful scenes in the entire park, and also one of the best locations for wildlife viewing.
Throughout Grand Teton National Park, be sure to be alert, have your bear spray just as ready as your camera. If you do encounter wild animals, give them a safe distance. You should maintain 100 yards of distance from bears and wolves, and at least 25 yards from all other wildlife.
The scene at Oxbow Bend is about as postcard-perfect as you'll find not only in Grand Teton National Park, but any National Park in the lower 48. It's a can't-miss spot and it's very accessible. During peak season you'll be hard-pressed to get a quiet moment here even in the early AM given its popularity, but you'll still be awestruck by the otherworldly views, crowded or otherwise.
Oxbow Bend's view is tremendous from the small pull off on 191, but a little bit of hiking along the riverbank will pay off when you see new perspectives and better angles of the very photos you just took moments ago. You may have to maneuver through some mud, but you'll be glad you did when you glimpse the mountain backdrop and reflection into the Snake River.
Teton Park Road and 191 – Picture-Perfect Panoramas
Just a little bit up the road from Oxbow Bend, there's another open field and incredible photo opportunity at the northern junction of 191 and Teton Park Road.
This landscape lends itself to a panorama, so you may want to break out the tripod. Or, turn up your shutter speed, turn the camera on its side and try a hand-held panorama. These days, Adobe Lightroom is so good it can quickly stitch together your shots, even if they're a bit off-kilter. I like how this panorama came out even without a tripod.
From here, you could double back south along Teton Park Road and swing by Jenny Lake and Taggart Lake on your way through, or keep pressing north toward Colter Bay and Yellowstone.
Teton Park Road is generally closed between November and May, but had recently opened when I was here in Mid-May of 2021.
Scintillating Scenery at Schwabacher's Landing
On your short-list of must-sees at Grand Teton National Park, Schwabacher's Landing should be near the top. I hadn't come across it in my initial cursory research, but from speaking to local photographers both in Yellowstone and Jackson, they all emphasized that I needed to prioritize this spot. It turns out, Schwabacher's Landing is very well known, and for incredible reasons. It would have been travel photographer malpractice to come to the Tetons and miss this location.
When I arrived, I knew instantly the locals steered me properly. The location is just off Route 191, down a winding dirt road. Schwabacher's Landing Road is closed and generally unplowed in winter conditions, so plan to hike from the initial pull off down to the parking lot if snow's already on the ground or in the forecast.
Once there, Schwabacher's Landing begs for a long exposure, with nearly-still pond water providing a hazy reflection of the tall grass, spruce trees and snow-capped, cloud-covered mountains. I was here around 9 am, well after sunrise, but still ahead of the harsh midday sun that casts hard shadows and washes out photos.
Schwabacher's Landing's actual address is in Moose, Wyoming, so you'd have to expect that if there's anywhere you're likely to see a majestic moose, your odds should be higher here.
While this write-up is by no means a comprehensive guide to Grand Teton National Park — I didn't get out on the trails this time — you can see plenty on a driving tour, making this one of the most accessible and awe-inspiring National Parks in America.
Tracing the Gallatin River Back to Bozeman
On my return to Bozeman, I stopped in at the aforementioned Henrys Lake State Park and Harriman State Park in Idaho. Both are worthy of check-ins when you're passing through western Idaho. Further north, as you cross North back into Montana on Route 20, and then snake along the Wyoming boundary on Route 191, you'll follow the Gallatin River back to Bozeman. Two of my favorite spots from this trip weren't even on my radar, but I pulled off the highway when I saw them.
The overlook at Fawn Pass was perfectly glorious on May 13, 2021. Every color of the rainbow was painted across the landscape from the overlook on Route 191. Further up the road, I came across two gentlemen from Boston who were casting for cutthroat trout in the Gallatin River, a quintessential Montana fishing hotspot.
I generally avoid putting people in my photos, but in this case, I loved the shot I took of this man perched on the banks of the river. He'd previously been knee-deep, but now he was barely in the water, tugging the slack on his line trying to lure in a prize from the cold mountain river. This is the Montana I'd always pictured in my mind, and now I had a frame to document it. It was the last photo I took on my trip, but it just might be my favorite.
Videos:
This time, it's OK to leave a trace (Review)
There are no reviews yet. Be the first one to write one.
Submit a review of Looping the Grand Tetons: Cruising through Montana, Wyoming, Idaho and Yellowstone