Yant Flat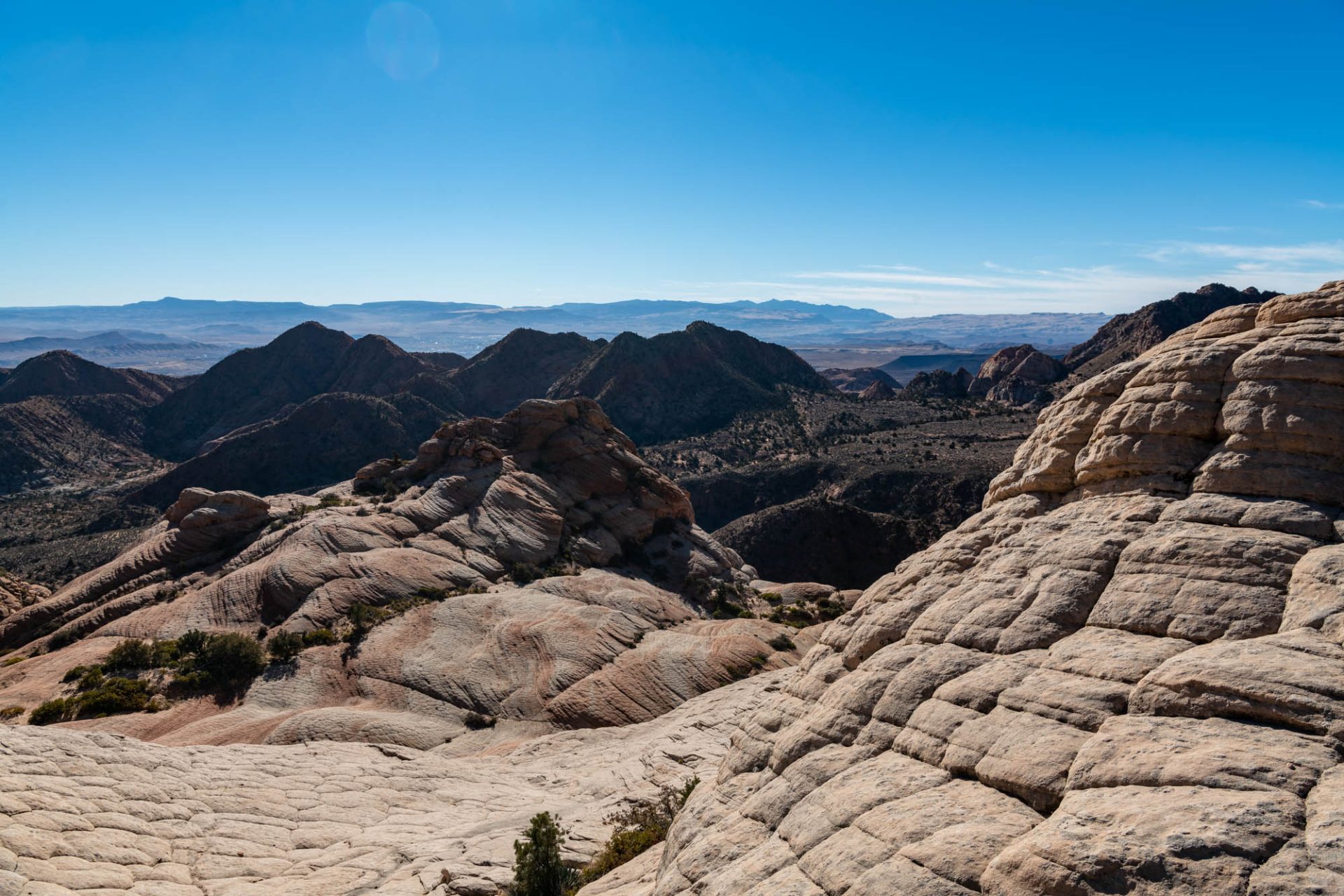 Yant Flat requires a decent amount of effort to reach, but the breathtaking views from the top more than make up for the unpaved winding mountain roads and hike through loose sand you'll traverse on the way.
The road to reach the trail head for Yant Flat isn't paved, and depending on recent weather, can be very rough at times. A rainstorm could make the road impassible for standard passenger vehicles. While a 4×4 isn't required in normal conditions, weather can change quickly in the Utah mountains. Proceed at your own risk.
The "flat" part of the name is a bit misleading, as there's nothing much flat about the location. While the initial elevation gain is somewhere between 200-300 feet, you'll be scrambling up and down sandstone formations after the initial hike, often at steep inclines and declines.
We'd strongly recommend hiking boots for proper traction across angled stones at steep inclines and declines.
If you've been to White Pocket before, Yant Flat will look similar, but with less color on the rocks themselves – at least at the start where the sandstone is mostly white and gray. From this point, the view across the canyon that unfold in front of you delivers miles worth of mountains and cliffs.
As you venture further down the sandstone, more colors will eventually unfold up close, right in front of you. You'll have to do some scrambling to get there, which is where appropriate footwear becomes important. You may even want to scoot on your butt at times. And it may be tough to find your way back up to the main landing area. There are no proper trail markings once you pass the initial landing area.
The "Candy Cliffs" of Utah, as they're known, really do deliver an awe-inspiring visual, with interesting patterns and waves of color across the rocks.
This hike is best completed during the fall or spring months, as summer temperatures here can easily eclipse 100 degrees and you'll be exposed to the sun throughout.
Maps & Directions:
Get Driving Directions:
Yant Flat, Utah 84780
This time, it's OK to leave a trace (Review)
There are no reviews yet. Be the first one to write one.
Submit a review of Yant Flat