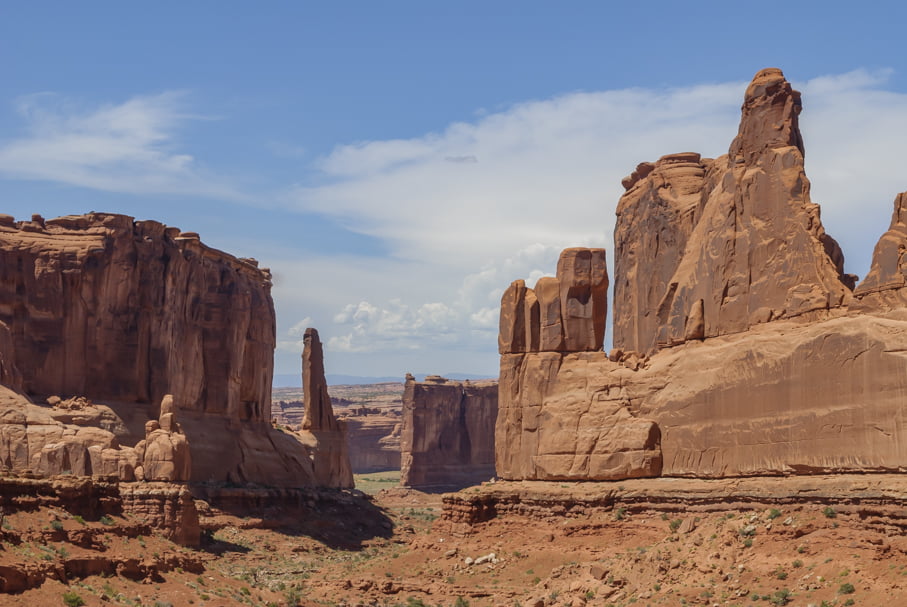 Moab is a mountain resort town on the eastern border of Utah where adventure awaits at the gateway to a pair of incredible National Parks. Arches National Park and Canyonlands National Park both call the Moab area home, and the landscape is rugged, striking and dramatic from the Green River to the La Sal Mountains.
Whether you're into hiking, mountain biking, photography or river rafting on the Colorado River, Moab is near the top of the list in the United States when it comes to amazing American destinations.
Arches National Park – Stunning Sandstone Structures
If you've never been to a National Park before, you'd be setting the bar pretty high if you made Arches National Park your first. Arches offers some of the most impressive natural rock formations you can see anywhere on the planet. From Balanced Rock to Delicate Arch, the highlights of this park are large and impressive both from a distance and up close.
You can't miss Balanced Rock as it's featured on the Arches Scenic Drive. Parking is right off the road and the Balanced Rock is right in front of you.
Cathcing a glimpse of Delicate Arch requires a little more work. The arch can be observed from a distance from two different viewing areas, but you'll need to do a hike to get the full experience. If you're up for the climb, it's worth the effort. You'll want to go early to avoid the crowds, as Delicate Arch is the park's most famous feature.
Delicate Arch at Arches National Park in Moab, Utah. Photo by Peter Stringer
Other attractions at Arches National Park include the Double Arch, which resembles a pair of sandstone flying buttresses, as well as the aptly-named Windows Section, where massive cut-outs open up to the distant sky ahead. This location is especially popular for sunset photos at Arches National Park.
Canyonlands National Park – See Mesas for Miles
While Canyonlands National Park doesn't enjoy the same publicity as its neighbor Arches National Park, it didn't become a national park in 1964 without reason. Canyonlands sits at the intersection of the Green and Colorado Rivers, which divides the park into four districts. Most visitors spend their time in either the Island in the Sky district or the Needles District, while the remote, seldom-visited Maze district draws just one percent of the park's annual tourists. The park's rivers are generally accessed by rafters only.
The signature experience at Canyonlands National Park is catching sunrise at Mesa Arch. A large narrow arch frames the rising sun above a desert canyon, presenting a spectacular vista that has to be seen to be believed. Light from the rising morning sun gives the arch's top rim a golden glow that makes for incredible images.
Photographers from around the world descend upon Mesa Arch to capture this moment, from tourists with selfie-sticks to pros with telephoto lenses and tripods. You'll need to get there early to secure your spot below the arch; professional photographers are typically here an hour or more prior to sunrise to stake out a location in the morning cold.
What Else is in Moab?
Moab itself is mostly a resort town and resting place for travelers visiting Arches and Canyonlands. Hotels along Main Street sell out well in advance during the summer months when Moab tourism peaks. Outside of town, for a more remote experience, check out the famous Red Cliffs Lodge, which sits on the banks of the Colorado River. Much like Kanab, Utah, Moab has played host to many TV and film productions, and their legacy is remembered at the Moab Museum of Film and Western Heritage across the street from the Red Cliffs Lodge.
While a cruise on Route 191 could take you from Wilson Arch through downtown Moab up to Uranium Arch, you really need to do a lot of driving to see all that Moab has to offer. The Moab area has three scenic byways that offer incredible views and hiking options worthy of exploration.
Haven't seen enough arches, mesas or red rock? Upper Colorado River Scenic Byway U-128, or River Road as it's known by the locals, is a must-drive. It takes you north of Arches National Park to the nearby ghost town of Cisco, Utah. It's also a great alternate approach to Arches if you're coming west from Colorado on Interstate 70.
While Moab's National Parks get plenty of deserved attention, Dead Horse Point State Park is one of Utah's lesser-known gems and one of the best state parks in Utah. The park is remote, as there's only one road in and out, 32 miles from Moab, but the payoff when you get there is a magnificent overlook of the Colorado River. Be sure to bring plenty of gas and food with you, as there's really nothing else in the area of the park on Dead Horse Point Mesa Scenic Byway U-313.
Corona Arch is another under-the-radar Moab attraction, but it requires a lot of effort just to get to the trail thanks to an hour-long ride outside of town that requires a long hairpin cruise down Potash-Lower Colorado River Scenic Byway U-279. When you do arrive, you'll be greeted by a 3-mile out and back trail across slickrock and a few steep climbs up rock stairs.
Something to keep in mind when visiting Moab – there are many rough roads that are best traversed with a high clearance 4×4. In fact, there's a lot of locations you just won't even be able to get to in a regular passenger vehicle; you'd run the risk of getting stuck or stranded without the proper transportation. If you don't have a 4×4 at your disposal, or If you're not up navigating the white knuckle rides yourself, why not hire a local tour guide to do the driving?
AttractionsHikingMuseumsParks & ForestsScenic Areas