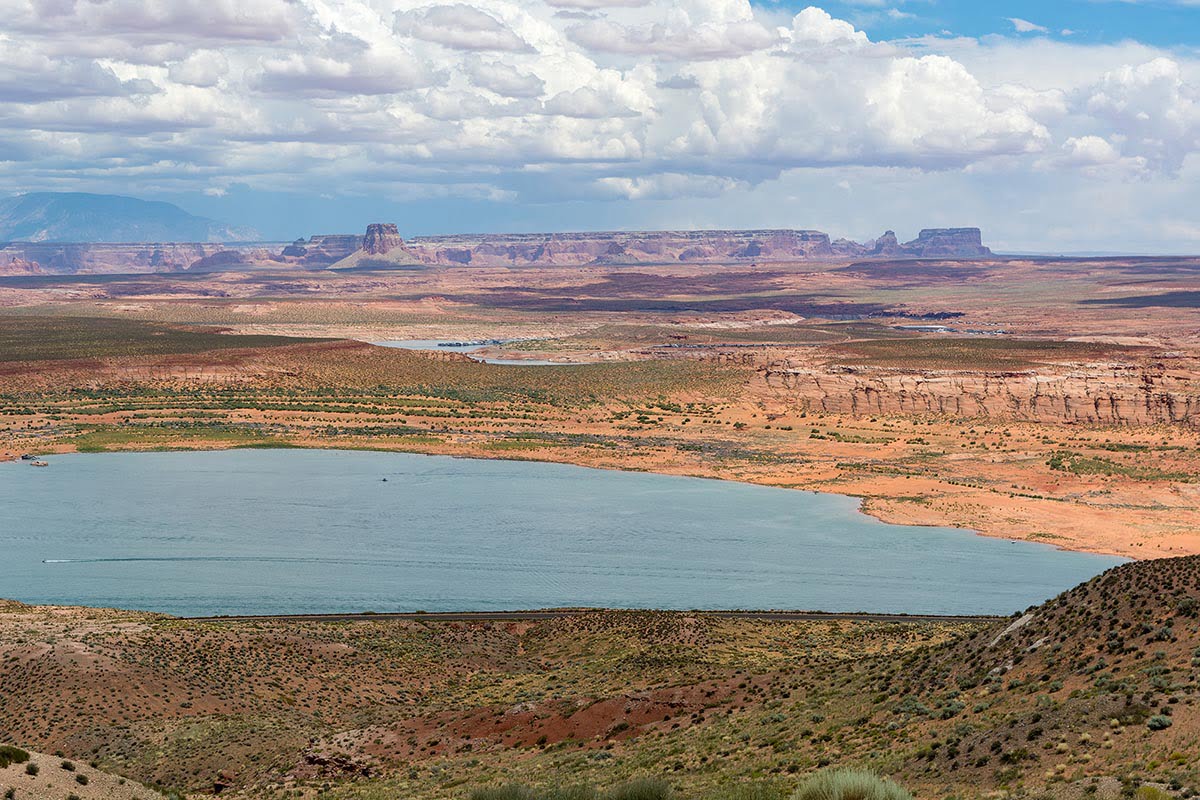 Page, Arizona sits at the intersection of the Navajo Nation, Grand Staircase Escalante, the Vermillion Cliffs Monument and the Colorado River in northern Arizona, making it a must-see for any road trip enthusiast. Horseshoe Bend, Antelope Canyon, Lake Powell and Glen Canyon National Recreation Area are all within just a few miles drive of each other in the Page, Arizona area, giving visitors a host of options for easy day trips.
Page, Arizona is located roughly 10 miles from the Utah border in Northern Arizona on Route 89, and is about four hours driving distance from both Las Vegas and Phoenix. Page is northeast of the north rim of Grand Canyon National Park and about 75 miles west of Monument Valley. If you're traveling by air, Page Municipal Airport also offers daily flights to and from Phoenix as well. As of the 2020 census, 7,525 residents called Page, Arizona home.
Much like nearby Kanab, Utah, the Page, Arizona area is an ideal road trip hub for many of the attractions near the Utah-Arizona border. Zion National Park and Bryce Canyon National Park are also within striking distance along Route 89, although given the terrain of mountains, canyons and valleys, most routes between many destinations aren't exactly straight lines.
How do you book an Antelope Canyon tour?
Antelope Canyon in Page, Arizona on July 9, 2015. Photo by Peter Stringer
While there are many lesser-known slot canyons around the region, the most famous is certainly Antelope Canyon, which sits on native lands and as such, is only accessible via private tour companies in the Navajo Nation. While Antelope Canyon tours are available at both Upper Antelope Canyon and Lower Antelope Canyon, there are a few differences of which you'll want to be aware.
Upper Antelope Canyon is generally easier to enter and is especially known for light beams that naturally occur in the canyon, a phenomenon that's been captured by professional photographers and amateurs alike.
A Lower Antelope Canyon tour also requires climbing down and back up some stairs to access the canyon. However, Lower Antelope Canyon is wider and hence feels less crowded.
Upper Antelope Canyon does offer special photography tours that allow photographers to bring in tripods and backpacks, but they're more expensive, you'll need to book them in advance and their availability is limited. Antelope Canyon draws crowds year-round.
When's the best time to see Horseshoe Bend?
Horseshoe Bend is a meander of the Colorado River just southwest of downtown Page, Arizona that has evolved into an iconic image of the 48th state.
Horseshoe Bend captured at Sunrise on November 29, 2018
Horseshoe Bend's popularity has skyrocketed in the Instagram age, and as such, what was once a best-kept secret among locals and photographers alike has now become a wildly-popular landmark. Growing visitation at Horseshoe Bend required local authorities in Page to install a larger paid parking lot and a barrier at canyon precipice in recent years.
Horseshoe Bend is Page's most popular attraction, so expect large crowds throughout the day, starting well before sunrise and wrapping up with throngs of tourists looking for "gramworthy" sunset selfies.
If stepping up to the edge of a giant canyon isn't your cup of tea, helicopter tours are also available.
Lake Powell Boat Tours Offer Unique Views
Lake Powell is a man-made reservoir straddling the Arizona-Utah border, thanks to the Glen Canyon Dam. The lake's creation in the early 1960s led to the Glen Canyon National Recreation Area's development a decade later.
While Lake Powell can be appreciated from several viewpoints around the Page, Arizona area, the best way to experience Lake Powell is up close on a boat tour or by renting houseboat for an extended stay. Lake Powell Resort at Antelope Point Marina and Lake Powell Boat Tours at Wahweap Marina both offer daily tours of the lake.
A boat tour of Lake Powell takes you into the canyon, where you'll get jaw-dropping views of the canyon reflected by the water that are almost mirror-image quality.
LakesScenic Areas