It's the end of September and that means the leaves are starting to turn in the mountains, while foggy mornings make for some impressive photographs. With thousands of trails in Colorado, it's hard to choose the best place to go see the changing colors. While no trail will disappoint, there are definitely some that will showcase more of the state's best. So here, in no particular order, are the top fall foliage hikes in Colorado.
---
Indian Peaks Wilderness, Eldora
If you're looking to stay close to Denver, check out this 4.4 mile hike. It starts off with a bit of an incline before mellowing out at the lake. After hiking through colorful aspen groves, hikers will arrive at the scenic Lost Lake. Those wanting more to do can continue up the trail to Devil's Thumb Pass. This trail goes above the valley, providing spectacular views of the Indian Peaks Wilderness.
This is a popular hike on the weekends, so be prepared to get here or early, or park at the Nederland High School to take the shuttle up to the trailhead.
---
Kenosha Pass, Jefferson
This is one of the more popular segments of the 500 mile Colorado Trail. At 32.6 miles one way, this is the longest trail on this list; however, many people hike back a few miles to see some of the best views for fall colors in the state. If you are looking for a good shorter backpacking trip, this is section is sure to delight you, providing great views into the South Park Valley below.
Parking fills up quickly on the weekends, so be sure to get here early. After the hike, drive the rest of Kenosha pass to get more fall color views. Head up into the Lost Creek area or drive down to Alma and up to Kite Lake.
---
Eagles Nest Wilderness, Silverthorne
Looking for a short, mellow hike with spectacular colors? The Lower Cataract Loop trail outside of Silverthorne is 2.3 miles and contains large aspen groves while walking alongside the picturesque lake. This trail is perfect for people of all ages and skill levels, making it a great family hike.
For those looking for a harder trail, just down the road is the trailhead for Upper Cataract Lake, which is around 10 miles and has spectacular views as well.
---
Raggeds Wilderness, Somerset
Near Kebler Pass, one of Crested Butte's famous drives for aspen viewing, this trail is lesser-known but sure to impress. At 3.4 miles total, driving to the Three Lakes Trail may take longer than the hike. The views are worth it though. This hike will show off the Colorado fall colors well as hikers walk through aspen groves most of the way while providing incredible views of alpine lakes and gorgeous mountains of the surrounding area.
After, drive the Kebler and Ohio passes for even more fall color. There are plenty of trails along these roads too for leaf hunters, so hikers can get out at pulls offs as they please to explore the area.
---
Mt. Evans Wilderness, Idaho Springs
Not all Colorado fall color hikes have aspens. Instead, the alpine tundra is covered with brilliant orange and red brush. If you start low enough though, some certainly have both. This hike is one of those, and at 16 miles round trip, hikers must be prepared for a long day if doing the entire length.
The Abyss Lake trail starts off at lower aspen groves, going through the forests before coming to the treeline. The trail continues up past this point to a lake in a glacier-carved basin beneath two 14ers. Hikers will be impressed by the deep colors of the alpine brush once they reach the basin. If you aren't feeling up to hiking the entire trail, many hikers choose to turn around halfway at treeline, making it about 8 miles round trip.
---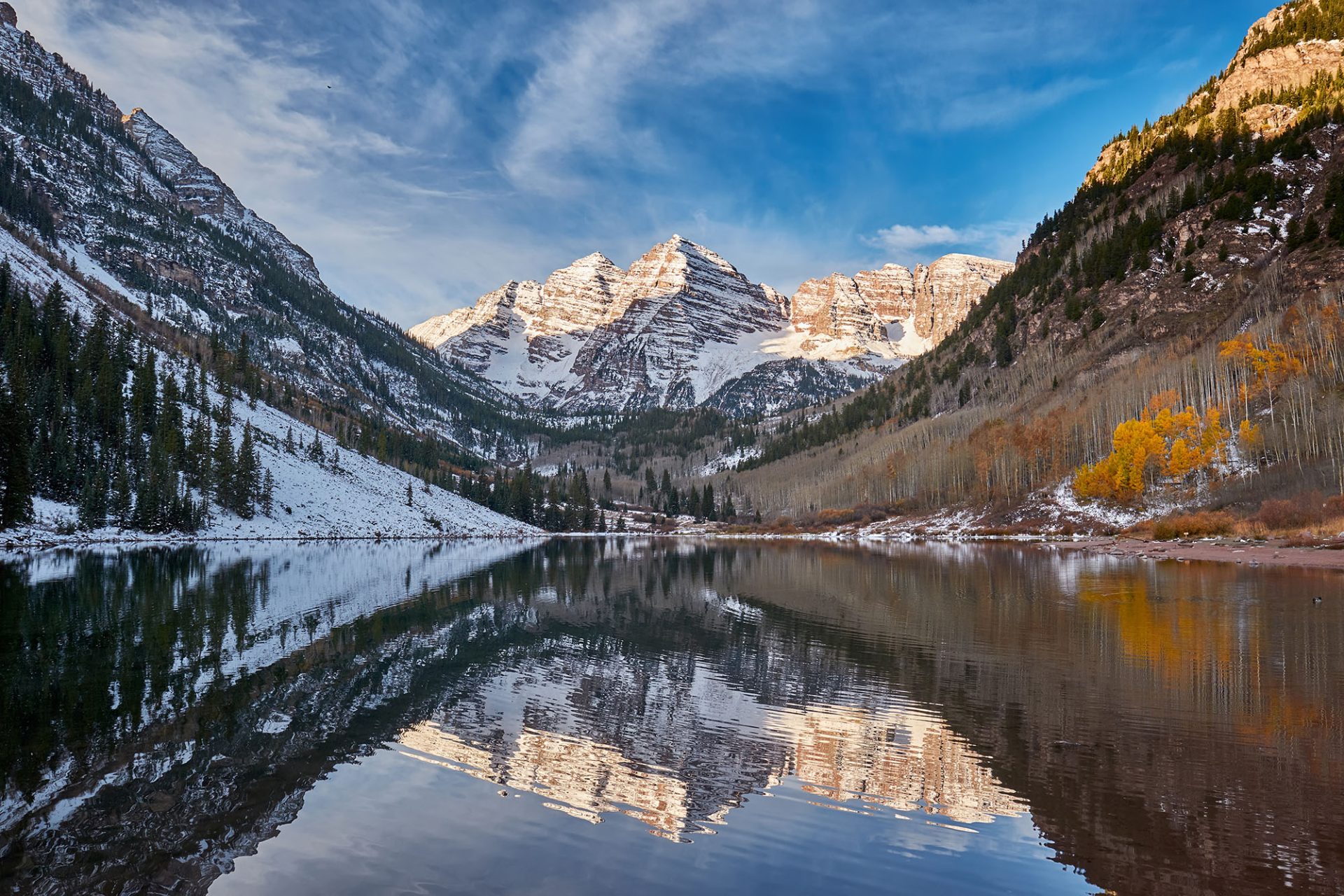 Crater Lake Trail
No Colorado fall color hiking list is complete without the popular Crater Lake Trail. This 3.6 mile trail contains one of the most photographed spots in Colorado, and for good reason. The trail begins at Maroon Lake with the famous Maroon Bells towering in the background. Many people don't continue past this point, so hikers will lose some of the crowd as they hike further back. Hike up the trail 1.8 miles to Crater Lake, passing by large aspen groves on the way and getting a close-up view of the majestic Bells in all their glory.
*Due to Covid-19 restrictions, reservations are currently required to enter the Maroon Bells Wilderness Area