I've got about 1,200 stars in my Google Maps, the majority of which are concentrated in Nevada, Arizona and Utah. Which means you can sometimes forget about California.
Forget about California???
That's a bit of an overstatement, but ever since I moved to Las Vegas, I've been so busy exploring Utah and Arizona, that I tend to neglect the Golden State. Perhaps it's because Los Angeles, San Diego and the Bay Area come to mind immediately, but there's so much to see outside of the population hubs where most of the state's 40 million people reside.
Last weekend, I decided it was time to go see a few National Parks that I'd yet to check off the list. Specifically, Seqouia National Park and Yosemite National Park. But a funny thing happened along the way. I never made it to Sequoia, and actually ended up in neighboring Kings Canyon National Park.
Leaving Long Beach, CA on a Saturday morning, the GPS said 4 hours, 30 minutes to Sequoia National Park, but I figured there may be a few stops on the way, as I hadn't really gone very far north of Los Angeles on Interstate 5. "The Five" as Los Angelenos refer to it, famously takes you from the Mexican border to the precipice of Vancouver, British Columbia, but it really only hugs the Pacific Coast from San Diego to Dana Point (just south of Laguna Beach), and sits mostly inland through most of the journey to the Canadian border until you reach Olympia, Washington about 60 miles or so southwest of Seattle.
If you want another amazing California road trip, check out our
Route 395 itinerary
, which takes you along the eastern edge of the Sierra Nevada range.
Time estimates when driving through the greater L.A. area are to be taken with the proverbial grain of salt, or a few hourglasses full of them, as traffic is rarely cooperative and optimal conditions are fantasy at best. But as you make your way through Los Angeles and eventually reconnect with Interstate Five, about 30 miles north of town sits Pyramid Lake, a convenient rest stop for unwinding after successfully navigating through LA's urban sprawl.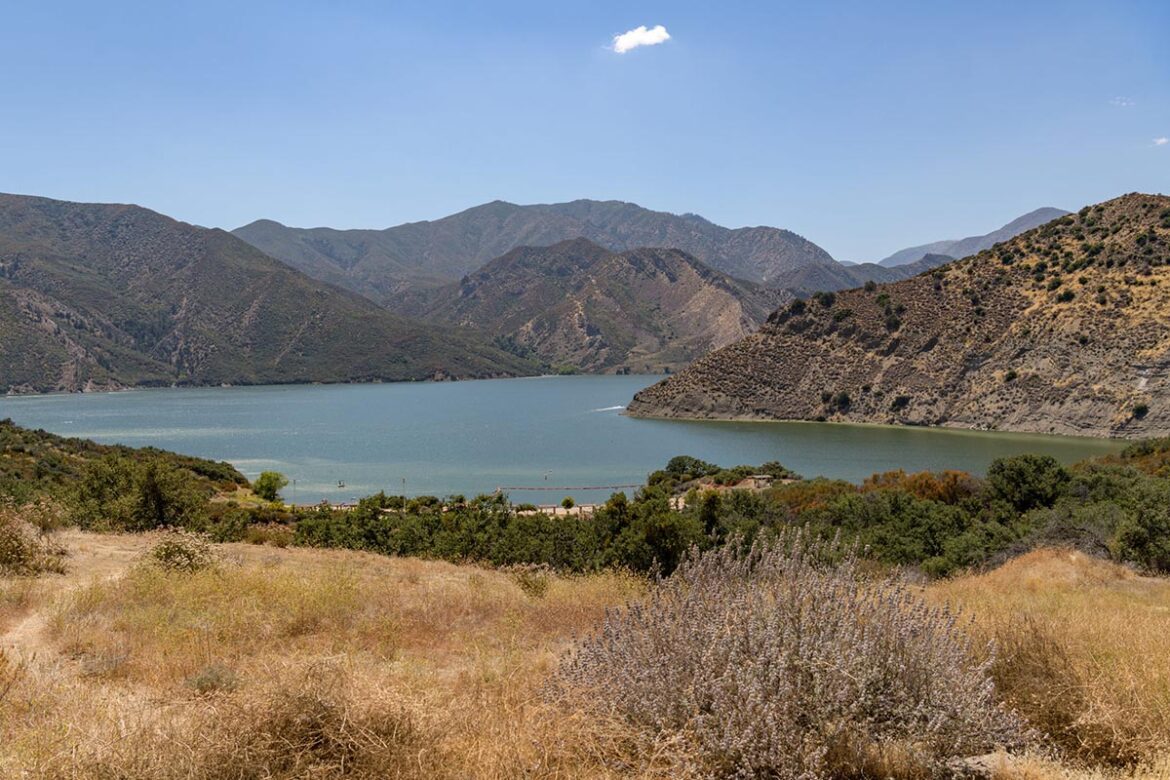 The Vista del Lago Visitors Center is right off the highway, providing an overlook of the man-made reservoir that was developed in 1972, just about 130 years after gold was discovered in nearby Santa Feliciana Canyon. It's a great view worth the quick stop, with a full service visitors center and plenty of parking.
Alas, there's still a long way to go until Sequoia. I re-opened Google Maps and plugged in "The General Grant Tree," which I remembered was supposed to be among the tallest trees in the world. Having gotten a later-than-anticipated start to my trip, I needed to make time. In my haste, I didn't realize that the Grant Tree is actually in Kings Canyon, and not Sequoia. I'd figure that out three hours up the road.
Shortly after Pyramid Lake, you'll veer off I-5 onto Route 99 north, which takes you through Bakersfield, which is a great place to stop for gas, but I'm not sure what else you'd expect to see there. Panorama Park gets high marks from the locals, and the city is apparently called "Nashville West" by some, but I'll leave the history of Dwight Yoakam, Merle Haggard and the Bakersfield Sound to more qualified scribes.
Beyond that, you'll venture through miles mountainside farmland, as the Sequoia National Forest and the Sierra Nevadas sit just off your passenger side window. The next major destination would be Fresno, but more likely, you'll pass through its sattelite cities, Visalia and Tulare.
From there, it's another hour through farmland, heading due north on either Route 63 or 180 until you veer east into the mountains, and the adventure begins. Be forewarned, however. If you're more than mildly bothered by heights, this drive may not be for you. Once you start ascending, you're on a single-lane, winding divided highway. There's rarely a guard-rail to separate your vehicle from the edge of the mountain. You'll need to be focused and wide awake. This drive is not advisable if you're tired, or easily distracted, or generally nervous behind the wheel.
Also, tire chains are not only recommended in the winter, they're required in most parts of Sequoia and Kings Canyon. Road closures are also common. Outside of summertime, plan ahead before attempting to make this drive.
Caveats aside, the juice is worth the squeeze. Not only are the views incredible, but the mountain air is crisp, the sounds of nature are abundant, and you'll get a new appreciation for nature, even if you don't identify as an outdoorsman or outdoorswoman.
When I finally drew close to the Grant Tree, magic hour was in full swing and the sun was setting, which was perfect for the pictures I had already imagined in my head: adjacent Sequoias, their leaves glowing green and gold, casting long shadows while squeezing a sunstar between them, throwing a lens flare across my camera.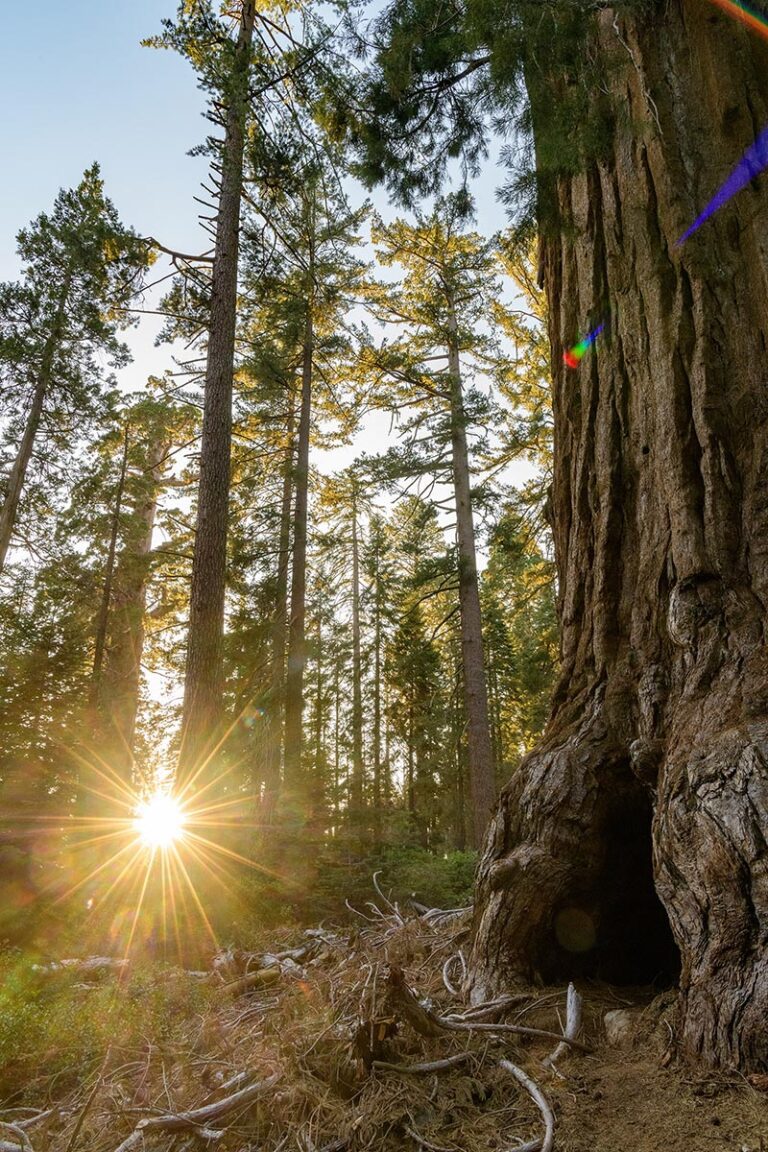 I tend to be impulsive, and as such, I rarely stick to rigid itineraries on road trips. Often, I find myself running out of daylight. When I finally checked out the Grant Tree, I found it impressive, but quite frankly, much like Dalton in Road House, I thought he'd be bigger.
Having seen the trees, it was time to think about where to stay tonight. Knowing I only had about 60 minutes of light remaining, I set a course back to Tulare, retracing my steps along the winding edge-of-death roads I'd followed into the park.
Considering the elevation in the park ranges from 1,370 feet to an astounding 14,494 feet, the 7,200-foot elevation of Grant Grove seems a touch underwhelming on paper. Out the windshield, however, its majesty translates quite dramatically as you descend.
And while magic hour provided the pictures I already had in my head before the trip, I didn't anticipate that the real show would be during blue hour. I was hoping to drive in as much light as possible, but as the sky transformed, I couldn't help but pull over to capture a few breathtaking sights.
If I wasn't concerned with driving safety, I would have pulled the tripod out and taken proper photos of splendor in front of me. But in the interest of not plunging to my death in a rental car, I cranked the ISO up to 1000 on my Nikon so I could use a reasonably fast shutter (1/160) and sharp F/8 exposure.
All things considered, I can't complain about how this shot captured what my own eye drank in.