California has a long list of world-famous landmarks and attractions. There are nine national parks and hundreds of state parks, Disneyland, some of the world's biggest cities, and of course, Napa Valley. The most populated U.S. state still has a few secrets, though.
One example is Temecula Valley, a much lesser-known wine destination 90 minutes from Los Angeles, San Diego, and Orange County. Temecula is considered "southern California wine country," a counterpart to Napa and Sonoma several hours north.
Temecula Valley isn't nearly as old and well-established as Napa, but it's equally impressive in its own right. The region is exceptionally warm, but enjoys coastal fog and direct cooling thanks to what's known as the "Rainbow Gap" in the Santa Margarita Mountains. This allows a wide variety of grapes to thrive, like warm-weather Sangiovese and cool-loving Sauvignon Blanc.
Today, nearly 40 wineries make up southern California wine country. Aside from simply checking out the best Temecula wine tours, there are plenty of activities to keep you occupied. Temecula Valley is well-worth a visit, whether it's a weekend road trip or you're traveling cross-country.
Best Temecula wine tours and tastings
---
Doffo is a must-visit in southern California wine country, particularly if you have a penchant for bold reds. This small, family-run winery began as a completely bare property in the late 1990s, hand-cultivated by Argentinean immigrant Marcelo Doffo.
Today, Marcelo's three children manage the winery and much of the cultivation is still done by hand. Drop-in tastings are offered seven days a week, but the Cork 'N Torque Tour lets you see the storied MotoDoffo collection of 200 vintage motorcycles up-close.
---
Situated on Temecula's stunning De Portola Wine Trail of family-owned wineries, Cougar Vineyard and Winery specializes in Italian varietals and blends. Its wines are 100% estate, meaning that Cougar handles every aspect of the winemaking process in-house, from growing the grapes to bottling.
Cougar has wine tastings available seven days a week with advanced reservations. There's also Sangio's Deli on-site, so order a cheese platter, hand-tossed pizza, or sandwich for takeout and enjoy a picnic on the gorgeous Old World-style grounds.
---
As one of the oldest wineries in the Temecula Valley, Hart is synonymous with southern California wine country. The winery has an unassuming vibe that lets its naturally beautiful surroundings and the wine itself do all the proverbial talking. The 1,500-foot elevation produces several award-winning red varieties, as well as Hart's flagship Sauvignon Blanc.
While Hart doesn't serve any food, the winery does allow visitors to bring their own snacks for tastings. Sit outside on the large patio for some of the best views of the valley.
---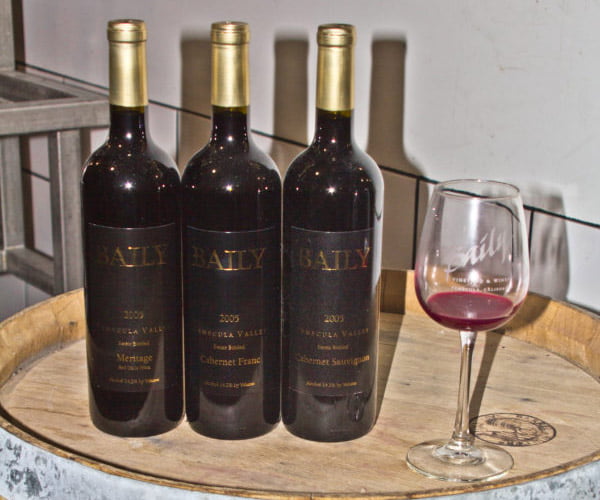 Another veteran in southern California wine country, Baily Vineyard & Winery is widely considered one of the best Temecula wine tours. Carol and Phil Baily started with a single acre of Cabernet Sauvignon grapes in the early 1980s.
Today, the Bailys have over 25 acres of vineyards, as well as two tasting rooms and a production facility. They also own three restaurants: Front Street Bar & Grill and Baily's Fine Dining in Old Town Temecula, and Carol's at the main tasting room, which is dog-friendly and frequently has live music on weekends.
Other activities in southern California wine country
Taking the best Temecula wine tours is unquestionably one of the area's main attractions, but it's far from the only one. Southern California's mild year-round weather makes Temecula Valley a haven for all types of outdoor pursuits.
Hot air balloon rides – The best way to see Temecula Valley is from several thousand feet in the air. Several local companies offer sunrise and sunset rides, and both are spectacular. If you're visiting in June, don't miss the Temecula Valley Balloon & Wine Festival, the state's biggest ballooning event.
Horseback riding – Exploring Temecula's rolling hills and valleys is even more magical on horseback. There are a wide variety of options, from scenic nature trail rides to the best Temecula wine tours that include tastings and even lunch. If you're a newbie, not to worry – many ranches offer lessons!
Golf – It may not be the first thing that comes to mind when you think of southern California wine country, but Temecula is a premier golf destination. The valley has several award-winning courses that offer nearly 100 holes combined.